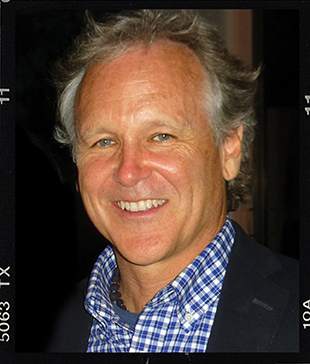 45th Anniversary Issue
For this issue we decided to capture the proud history of our covers—and caught up with founder Andy Alpine. I'll never forget the day we met. With his clear blue eyes, I thought he looked like Gandalf from Lord of the Rings. And he really started something!
After attending a service for Ram Dass hosted by Larry and Girija Brilliant, I got the idea for this issue as I was listening to friends such as Wavy Gravy, Mirabai Bush, Jack Kornfield, Bob Weir, and Joan Baez speak of the deceased (who felt like he was in the room). It occurred to me to ask Krishna Das (who performed along with Jai Uttal and others) to talk about his buddy. Krishna Das—who had been with his best friend in Maui just two days before he passed on December 22, 2019—agreed to reminisce with me on the phone while sitting next to his friend's bed in Maui. Unforgettable—felt like Ram Dass was on the call! Ah, grace!
Daniel Kottke was pals with Apple co-founder Steve Jobs. The two bonded as freshmen at Reed College in 1972 when Jobs borrowed Kottke's copy of—get this—Ram Dass's book Be Here Now. After that they read Autobiography of a Yogi and as their friendship deepened so did their spiritual book collection. Equally the two experimented with psychedelics and traveled together to India. Surprisingly, at Reed, Jobs never once indicated his interest or ambition regarding tech. It's a fascinating buddy tale that in the end teaches about the importance of forgiveness.
Ken Babbs met Ken Kesey in 1958 at Stanford's graduate writing program and the two remained besties until Kesey died in 2001. As founders of the Band of Merry Pranksters, they shared infamous adventures. Babbs is a fascinating storyteller whose tales of firsthand experiences with other dearly departed notables such as Neal Cassidy and the songwriting team of Jerry Garcia and Robert Hunter left me stunned. What a pleasure to speak with these folks.
We're grateful to Jennifer Raiser who chronicles the amazing journey of the Cockettes, SF's original gender bender trailblazers from the '60s. Ooh-la-la! For some serendipitous reason the San Francisco Bay Area has long been (and continues to be) a forerunner of fascinating trends. Fifty years ago, Earth Day originated here. Thank you, David Kupfer, for your essay reminding us to treat every day as Earth Day—just as our indigenous predecessors did. Joshua Harris provides a timely essay about how to tackle what he calls Negative News Fatigue, while Kate Greer reminds us to practice looking at life (past-present-future) through the spectacles of joy.
From the vault we pulled one of my favorite interviews from 2012, with astronaut Edgar Mitchell, who died in 2016, ironically on the eve of the 45th anniversary of his moonwalk. So much to say about Edgar, but notably he was a brilliant scientist with three doctorates and an IQ of 180—all the right stuff, you could say. Yet he was the leading proponent of the Disclosure Movement, which presses the government to release the trove of information they withhold about extraterrestrials. Another irony—Mitchell hails from Roswell, NM. I'm proud he told me that our interview, "Moon Walker, Quantum Stalker, Truth Talker," was his favorite.
As ever, please show your appreciation for Common Ground by patronizing its sponsors—the best. Here's to 45 more!
With hands cupped in gratitude, Rob Sidon
Rob Sidon
Publisher/Editor in Chief